Apple (AAPL ) on Tuesday began rolling out its long-anticipated Apple Pay Later service, which allows users to split purchases into an interest free installment loan with four payments spread out over six weeks.
However, not everyone will have access to the new Apple Wallet feature right away.
Starting Tuesday, Apple will begin inviting randomly selected users to access a pre-release version of Apple Pay Later. The company said all "eligible" users of iOS 16.4 will have access to the service in the coming months.
Apple Pay Later users will be able to apply for loans ranging from $50 to $1,000, which can be used to pay for online and in-app purchases made with merchants that accept Apple Pay. Payments will have no interest or late fees.
"There's no one-size-fits-all approach when it comes to how people manage their finances. Many people are looking for flexible payment options, which is why we're excited to provide our users with Apple Pay Later," said Jennifer Bailey, vice president of Apple Pay and Wallet at Apple, in a statement. "Apple Pay Later was designed with our users' financial health in mind, so it has no fees and no interest, and can be used and managed within Wallet, making it easier for consumers to make informed and responsible borrowing decisions."
Merchants that already accept Apple Pay will not need to make any changes to their software to enable the service. That is due to Apple Pay Later being enabled through Mastercard (MA ) Installments program, with Goldman Sachs (GS ) being the issuers of the Mastercard payment credential used to complete all the service's purchases.
Apple said eligible users will see a "Pay Later" option while using Apple Pay at check out for online purchases, making it easy to apply for a loan while completing the purchase. The company said payments made using the installment loan will be authenticated through Face ID, Touch ID or passcode, which is typical for standard Apple Pay purchases.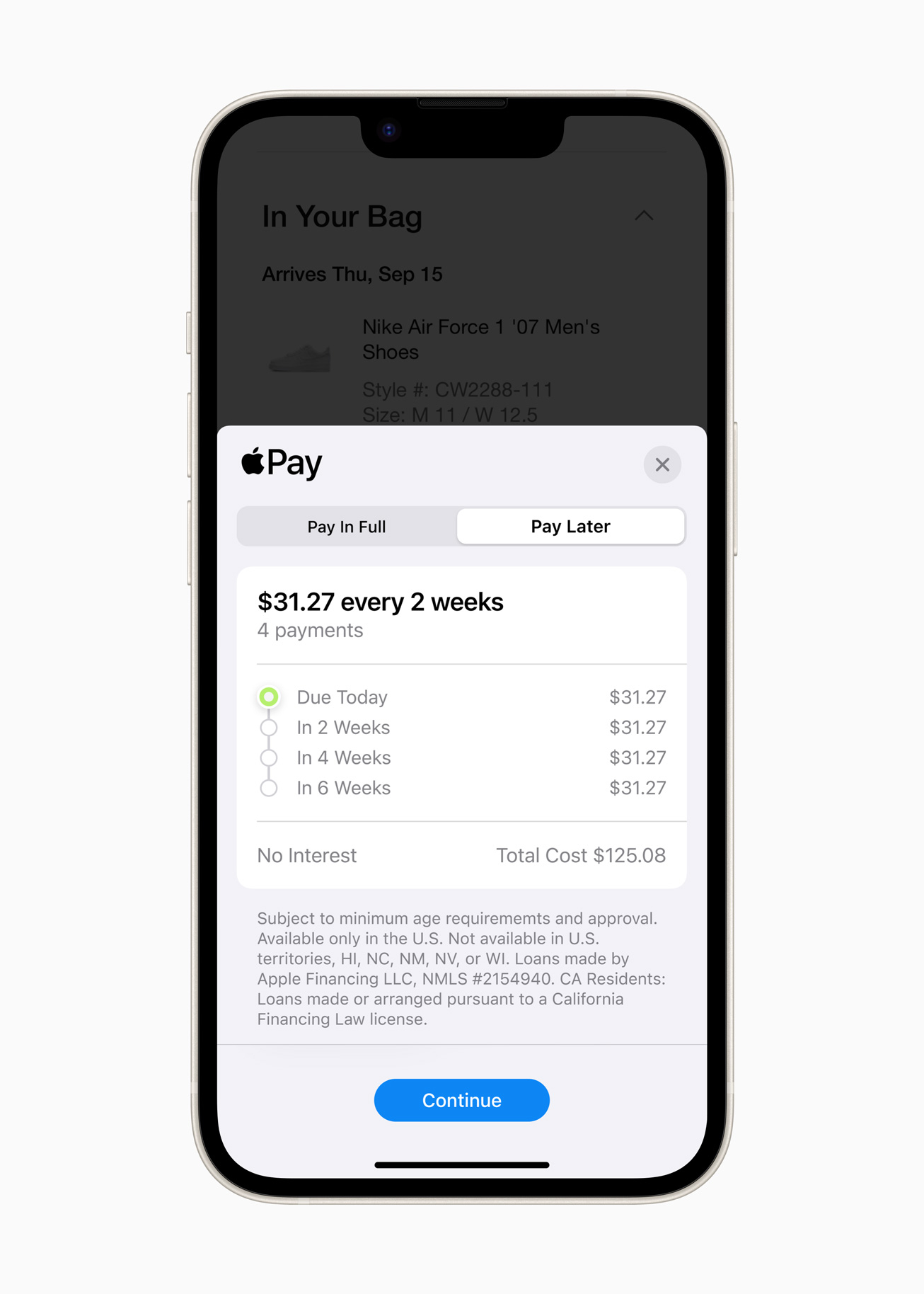 © Apple Newsroom
Users can apply for a loan within the Apple Wallet app without the loan affecting their credit score, Apple said. Once the user applies for the loan to use for a purchase, Apple will run a soft credit pull to gather if the user is in "a good financial position" to pay back the loan, Apple said in a release. The service will only accept debit cards for loan repayment.
Apple Pay Later users will be able to view the amount due for their existing loans in Apple Wallet.
Apple's new service is entering an already saturated "Buy Now, Pay Later" market, which has exploded in popularity in recent years, especially amongst younger consumers that are less likely to use credit cards. Industry heavyweights include PayPal (PYPL ), Affirm (AFRM ), Afterpay and Klarna.